Jean Feldmann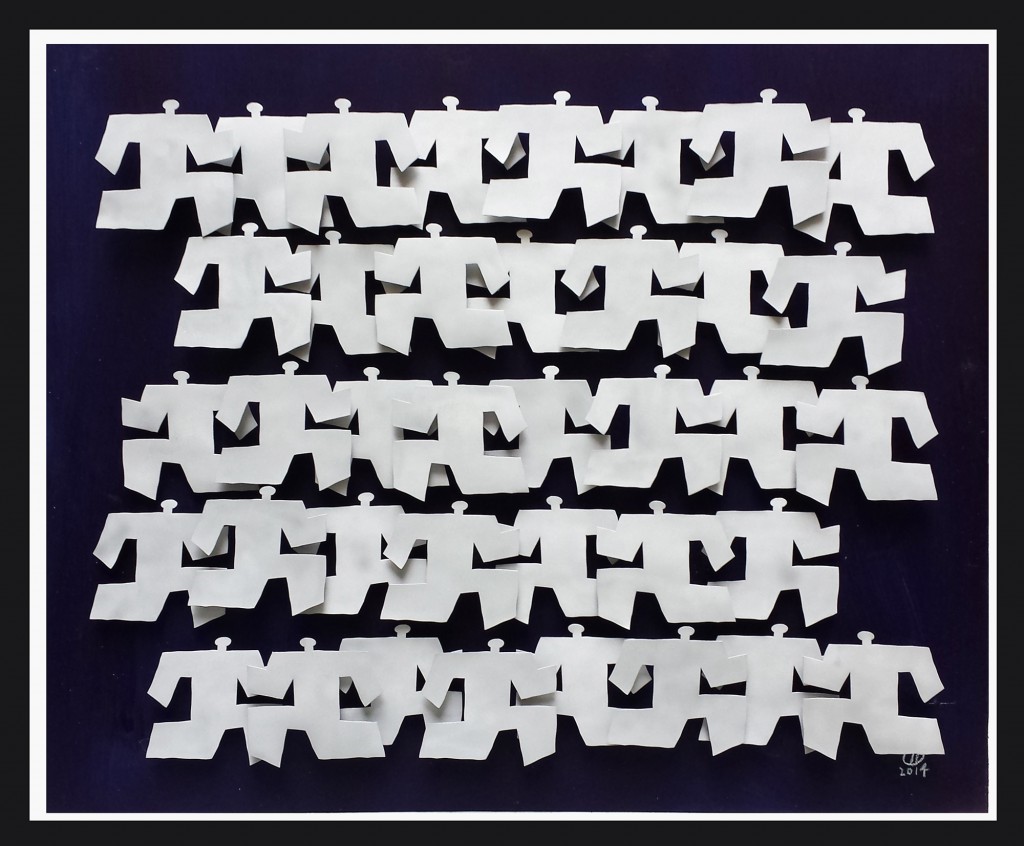 Race to nowhere 3, 2014, Aluminium et bois peint, 80 x 100 cm
First it was a piece of ebony and a fistful of clay, then later on an iron reddened by fire. Then the man (Who was he? African? American Indian?) gave him an essential form which was going to contain all his joys, his fears and his hopes. Centuries later, after being bartered, after travelling, being forgotten and then retrieved a thousand and one times, the object that was passed from hand to hand came back to us intact, diffusing its secrets and its emotions like a black box found on the seabed. It is this kind of encounter that moves me deeply every time and brings back the powerful memory of my early years, the memory of that innocence, that sheer joy of the wonderment of creation. Today, my work strives to connect with that time. My works are deliberately silent… They wish to be benevolent witnesses to those who possess them…I hope that they constantly transmit the feelings which gave them life.
The former Matarazzohospital, re-baptized Cidade Marazzo, will be hosting from September 6 to October 1, 2014, a collective display entitled "Made by Brazilians". Despite the title, the curatorship gathers Brazilian and also some foreigners like Ai Weiwei, Steve McQueen, Yoko Ono, Cindy Sherman, Xavier Veilhan and Xu Bing. Jean Feldman will present a large Totem in the exhibition which takes place within the framework of São Paulo Biennale.
September 5 to Octobre 1st, 2014. Cidade Matarazzo, Alameda Rio Claro 190, Bela Vista, São Paulo.
Works
Just a little war, 2011

Babylonians 2, 2009

Agitations 1, 2011

Agitation 9, 2013

Pommes, 2003

Témoins silencieux 1, 2011

Témoins silencieux 2, 2010

Babel's – Architects, 2009

Totem géant 1, 2012

Témoins silencieux 12, 2013

Forgotten summer 1
Exhibitions
2015 Galerie Catherine Houard, Paris
2014 Made by Brazilians," Cidade Matarazzo, São Paulo. September 6 – October 10, 2014 (Group Show)
2013 Galerie Louis Gendre, Jean Feldman – Jean Michel Buche, Espace Sévigné, Paris
2008 Galerie LC, Paris