Louis Verret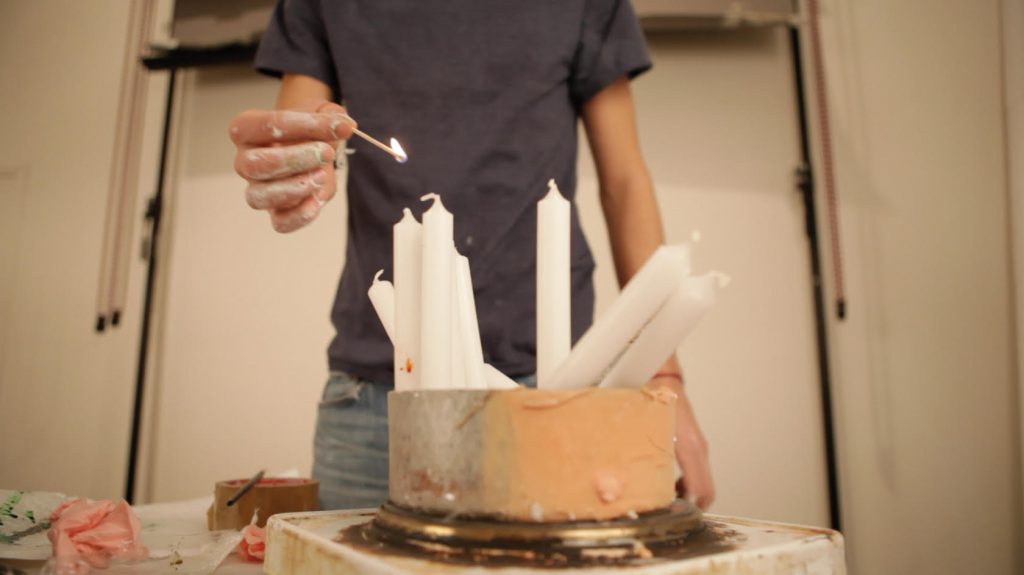 L'Asile des Mystères, 2013. Capture d'écran. Vidéo couleur, son. Durée : 5 min 26
Born in 1988, a graduate in 2012 of the Conceptual and Contextual Art section of the Central Saint Martin's School, London, Louis Verret elaborates a language made of analogies and translations. The image (painted, photographed or in video), as well as performance, writing and installation come together to serve a wider body, a system of reflections using for benchmark the erotic ethic of the marquis de Sade.
In 2013, Aufheben – a corpus comprised of a video triptych, oil and watercolour paintings, a sculpture, a window display and a composition for piano –   focused on the power of dialectics and on the position posed by Hegel (aufhebung) "going beyond the here and now", or how to be outside the law in order to remain within it. We followed Guernande, citizen of a parallel society, into his exile and his fall. In 2016, Le goût de l'aspirine, (The taste of aspirin) close to a happening, existed for a period of five hours. Next to this work, a story in prose, were shown a chaotic hanging of painted, autographed or recuperated images, a ready-made installation and an audio collage.
The system of thought, in addition to suggesting the all-powerfulness of analogy, was based on the possibility of doubt and error and on the impact of their appearance within movement.
Since 2012, Louis Verret teaches video, a preparatory class for entrance to the major art schools, at the Atelier de Sèvres.