Gilles T Lacombe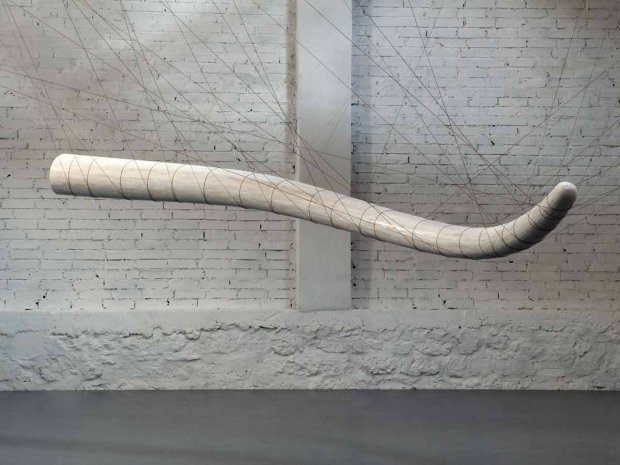 Défense de touches
In disorder.
He was trained in the Serge Mouille studio at the Ecole supérieure des arts appliqués, then studied at the Unité d'Enseignement de Recherche sur l'Environnement (UERE).
A graduate in social metrology who put into practice the theory of the hummingbird, he removed more than eight kilos of crude petroleum from the 1500 tons poured onto the beaches of the Channel by the oil carrier Gironde. After having embodied the bear in the Théâtre de marionnettes in an empty swimming pool in Parma, the quality of his performance led him to being hired as bodyguard-bookbinder in Sheepplugs, then as incendiary in the group Space Art. Chief architect of works carried out on a plot of land belonging to the French Ministry for the D.O.M. T.O.M., he left a radical trace in the memory of that building site, on both the architectural level and the organizational level of its rehabilitation.
La passion du Général Franco came as a real detonator as Dante and Buenaventura were to change the course of his life. He abandoned the role of naked dancer in Paradise now, in order to interpret the helmeted liquidator in a deserted dairy in the vicinity of The Hague.
Helped by his professor Mademoiselle Vaucheret, who was to inject him with a passion for beaten up string instruments, he crushed his first grand piano in the Parisian workshops of Fondations de l'ordinaire. It was thanks to Didascalies that he finally had access to powerful radiography instruments under whose beams of light Degas' dancer at long last revealed the secret of her incomprehensible loss of balance.
He is currently studying a project for the regrouping of land in the Tuileries gardens and wishes to launch a subscription to offer a decent tomb to La liberté éclairant le monde (The liberty enlightening the world)
For the last fifteen years, he has given priority to his work as a sculptor. He works with wood, ivory, marble, cast iron, bronze, paper and iron…
J.A.Hardring
Visit, "Poème symphonique pour 100 métronomes" :
http://www.ubu.com/film/ligeti_metro.html
Works
Sur les tilleuls

Il Tempo

L'increvable

Piallard & Bino

Attachement
Exhibitions
Solo show:
2016 Galerie Louis Gendre, Chamalières
2015 Galerie Catherine Houart, Paris
Group show:
2021NordArt 2021 Büdelsdorf, Allemagne.
2013 Wuhu Sculpture Project, Shanghai, Chine, à l'invitation de Michael Suh, conservateur.
2013 NordArt 2013 Büdelsdorf, Allemagne.
2012 Le Générateur Gentilly performance with Manon Harrois
2012 NordArt 2012 Budeldorf ,Germany. First prize.
2012 The spring exhibition at Kunsthal Charlottenborg, Denmark. Nominated.
2005 Centre G. Pompidou Paris. Performance within the framework of the exhibitions Dionysiac
2003 Pallazzo delle Esposizioni Rome, Italie.
2001 Barcelona Museum of Contemporary Art MACBA
2000 Centre G. Pompidou Paris. Within the framework of the exhibition Le temps vite
1998 Cité de la musique Paris
1998 Galerie Marion Meyer Paris
1994 Les Fondations de l'Ordinaire Paris
Awards:
Public award NordArt 2021
Public award NordArt 2013