DAVID HOCKNEY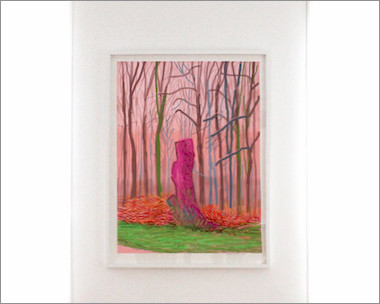 David Hockney, The Arrival of Spring in Woldgate, East Yorkshire in 2011, 15 March 2011, dessin sur iPad sur papier, édition de 25 exemplaires, 140 x 105 cm © David Hockney
David Hockney est né en 1937 à Bradford dans une famille du Yorkshire (Royaume-Uni).
Il étudie à l'école d'art de Bradford, puis au Royal College of Art de Londres d'où il sort diplômé en 1962.
Créateur passionné, polymorphe et expérimental, l'artiste britannique David Hockney, s'est rendu célèbre par ses portraits, ses paysages et ses natures mortes. Il décline un univers passionnément coloré et joue, tout en les respectant beaucoup, avec toutes les techniques, peinture à l'huile, acrylique, aquarelle, crayon, fusain, encre, collage, lithographie, photographie, iPad…
En 2017, pour ses 80 ans, une rétrospective itinérante a débuté à la Tate Britain, à Londres, puis est allée, dans des versions modifiées, au Centre Georges Pompidou à Paris et au Metropolitan Museum of Art à New York.
Œuvres
A Bigger Jamie McHale 2

Plug

Sans titre n°3, de la série « Yosemite suite »
Expositions
Expositions personnelles
2023
David Hockney a year in Normandie in Dialogue with Works from the Würth Collection, Museum Würth, Künzelsau, Allemagne
David Hockney. Collection de la Tate, Musée Granet, Aix-en-Provence, France
David Hockney, Museum of Contemporary Art Tokyo, Tokyo, Japon
David Hockney: Bigger & Closer (not smaller & further away), Lightroom, Lewis Cubitt Walk, King's Cross, Londres, Royaume-Uni
2022
David Hockney a year in Normandie in Dialogue with Works from the Würth Collection, Museum Würth, Künzelsau, Allemagne
David Hockney. Collection de la Tate, Musée Granet, Aix-en-Provence, France
David Hockney, Museum of Contemporary Art Tokyo, Tokyo, Japon
David Hockney: Bigger & Closer (not smaller & further away), Lightroom, Lewis Cubitt Walk, King's Cross, Londres, Royaume-Uni
David Hockney – Landscapes in Dialogue, Gemäldegalerie, Staatliche Museen, Berlin, Allemagne
David Hockney: INSIGHTS, Kunstforum, Vienne , Autriche
The Arrival of Spring, Normandy, 2020, Art Institute of Chicago, Chicago, États-Unis
A Year in Normandie, Tapisserie de Bayeux, Bayeux, France
David Hockney: 20 Flowers and Some Bigger Pictures, Galerie Lelong & Co., Paris, France
Hockney's Eye, Teyler's museum, Haarlem, Pays-Bas
David Hockney : A Year in Normandy, Salts Mill, Shipley, Royaume-Uni
David Hockney Love Life Drawings 1963 to 1977, The Holburne Museum, Bath, Royaume-Uni
Hockney's Eye: The Art and Technology of Depiction, The Fitzwilliam Museum, Cambridge, Royaume-Uni
David Hockney: Moving Focus, Kunstmuseum Luzern, Lucerne, Suisse
David Hockney: The Arrival of Spring, Normandy, 2020, The Sakıp Sabancı Museum, Istanbul, Turquie
2021
David Hockney : L'arrivée du printemps, Normandie, 2020, Palais des Beaux-Arts de Bruxelles, Bruxelles, Belgique
David Hockney : Œuvres de la collection de la Tate, 1954-2017, Palais des Beaux-Arts de Bruxelles, Bruxelles, Belgique
Hockney – Van Gogh : The Joy of Nature, The Museum of Fine Arts, Houston, États-Unis
David Hockney. A Year in Normandie, Musée de l'Orangerie, Paris, France
David Hockney: The Arrival of Spring, Normandy, 2020, Royal Academy of Arts, Londres, Royaume- Uni
2020
David Hockney: Drawing from Life,  National Portrait Gallery, Londres, Royaume-Uni
David Hockney Yosemite,  Heard Museum, Phoenix, États-Unis
Ma Normandie,  Galerie Lelong & Co., Paris , France
David Hockney, Galerie Louis Gendre, Chamalières, France
Drawing from Life,  The Morgan Library & Museum, New York, États-Unis
Snails Space,  Galerie Lelong & Co., Paris , France
2019
Hockney – Van Gogh: The Joy of Nature,  Musée Van Gogh, Amsterdam, Pays-Bas
New Photographic Drawings,  Galerie Lelong & Co., Paris, France
David Hockney's Yosemite,  Monterey Museum of art, Monterey, États-Unis
David Hockney,  Seoul Museum of Art, Séoul, République de Corée
2018
David Hockney,  The Metropolitan Museum of Art, New York, Etats-Unis
David Hockney – Retratos,  Museo Guggenheim de Arte Moderno y Contemporáneo, Bilbao, Espagne
Pictures of Daily Life – New iPhone and iPad drawings,  Galerie Lelong & Co., Paris, France
Portraits,  Galerie Lelong & Co., Paris, France
82 portraits and 1 still life,  Los Angeles County Museum of Art, Los Angeles, États-Unis
David Hockney,  Kunsthalle, Helsinki, Finlande
2017
Current,  National Gallery of Victoria (NGV), Melbourne, Australie
David Hockney,  Tate Britain, Londres, Royaume-Uni
The Yosemite Suite,  Galerie Lelong & Co., Paris, France
David Hockney,  Centre Pompidou, Paris, France
Happy Birthday, Mr. Hockney,  The Getty Museum, Los Angeles, Etats-Unis
2016
I draw, I do,  The Metropolitan Arts Centre (MAC), Belfast, Irlande
82 portraits and 1 still life,  Royal Academy of Arts, Londres, Royaume-Uni
2015
A Rake's Progress,  Bristol Museum & Art Gallery, Bristol, Royaume-Uni
David Hockney,  Louisiana Museum of Modern Art, Humlebaek, Danemark
A Rake's Progress,  Portland Art Museum, Portland, Etats-Unis
Words and Pictures,  Tel Aviv Museum of Art, Tel Aviv, Israël
The Arrival of Spring,  Galerie Lelong, Paris, France
L'Arrivée du printemps,  Fondation Vincent van Gogh, Arles, France
2014
Early reflections,  Walker Art Gallery, Liverpool, Royaume-Uni
A Bigger Exhibition,  The de Young Museum, San Francisco, Etats-Unis
Sechs Märchen der Brüder Grimm,  Museum Wiesbaden, Wiesbaden, Allemagne
The Jugglers,  Los Angeles County Museum of Art (LACMA), Los Angeles, Etats-Unis
2013
A Bigger Picture,  Museum Ludwig, Cologne, Allemagne
Drawing in a Printing Machine,  Galerie Lelong, Paris, France
The Jugglers,  Whitney Museum of American Art, New York, Etats-Unis
Love David,  Penrith Regional Gallery & The Lewers Bequest, Emu Plains, Australie
Seven Yorkshire Landscape Videos, 2011, Los Angeles County Museum of Art (LACMA), Los Angeles, Etats-Unis
2012
David Hockney's Fresh Flowers: Drawings on iPhones and iPads, Royal Ontario Museum, Toronto, Canada
A Bigger Picture,  Royal Academy of Arts, Londres, Royaume-Uni
David Hockney,  Louisiana Art & Science Museum, Baton Rouge, Etats-Unis
Hockney's Fairy Tales of the Brothers Grimm,  Museum of Modern Art Wakayama, Wakayama, Japon
El gran cuadro,  Museo Guggenheim de Arte Moderno y Contemporáneo, Bilbao, Espagne
New Acquisitions,  Indiana University Art Museum, Bloomington, Etats-Unis
2011
Fleurs fraîches,  Fondation Pierre Bergé – Yves Saint Laurent, Paris, France
Me Draw On Ipad,  Louisiana Museum of Modern Art, Humlebaek, Danemark
Through the Eyes of the Artist,  Singapore Tyler Print Institute (STPI), Singapour, Singapour
Four Print Portfolios 1961-1977, Seoul National University Museum of Art (SNUMoA), Séoul, République de Corée
2010
Six Tales from the Brothers Grimm,  Berwick Barracks, Berwick-Upon-Tweed, Royaume-Uni
Six Fairy Tales from the Brothers Grimm,  Bradford 1 Gallery, Bradford, Royaume-Uni
2009
Nur Natur,  Kunsthalle Würth, Schwäbisch Hall, Allemagne
2008
Grimms' Fairy Tales,  Turnpike Gallery, Leigh, Royaume-Uni
Looking at Woldgate Woods,  Arts Club of Chicago, Chicago, Etats-Unis
2007
Portraits,  National Portrait Gallery (NPG), Londres, Royaume-Uni
Words & Pictures,  Esterházy Palace, Bratislava, Slovaquie
Homage to Picasso: Hockney's Blue Guitar,  The McNay Art Museum, San Antonio, Etats-Unis
2006
The guest work,  Museo de Bellas Artes de Bilbao, Bilbao, Espagne
Portraits,  Los Angeles County Museum of Art (LACMA), Los Angeles, Etats-Unis
2003
David Hockney,  National Portrait Gallery (NPG), Londres, Royaume-Uni
David Hockney,  Galerie Lelong, Paris, France
2002
Stage Works,  The University of Michigan Museum of Art (UMMA), Ann Arbor, Etats-Unis
2001
Retrospective: Photoworks,  Wäinö Aaltonen Museum, Turku, Finlande
Exciting times are ahead,  Bundeskunsthalle, Bonn, Allemagne
Retrospective: Photoworks,  MOCA Grand Avenue, Los Angeles, Etats-Unis
Close and Far,  Galerie Lelong, Paris, France
2000
Retrospective: Photoworks,  National Museum Cardiff, Cardiff, Royaume-Uni
Retrospective: Photoworks,  Liljevalchs konsthall, Stockholm, Suède
1999
David Hockney,  Centre Pompidou – Musée National d´Art Moderne, Paris, France
Retrospective: Photoworks,  Maison Européenne de la Photographie, Paris, France
Retrospective: Photoworks,  Musée de l'Elysée, Lausanne, Suisse
1998
Photo-Retrospektive,  Museum Ludwig, Cologne, Allemagne
A Bigger Grand Canyon,  Smithsonian American Art Museum (SAAM), Washington, Etats-Unis
1997
David Hockney's Snails Space: Painting as Performance, Smithsonian American Art Museum (SAAM), Washington, Etats-Unis
1996
A drawing retrospective,  Los Angeles County Museum of Art (LACMA), Los Angeles, Etats-Unis
A Print Retrospective,  Museum of Contemporary Art Tokyo (MOT), Tokyo, Japon
Grimm's fairy tales,  University Art Museum – California State University, Long Beach, Etats-Unis
1995
A drawing retrospective,  Hamburger Kunsthalle, Hambourg, Allemagne
A drawing retrospective,  Royal Academy of Arts, Londres, Royaume-Uni
1993
Hockney's Opera,  Hiroshima City Museum of Contemporary Art, Hiroshima, Japon
Hockney's opera,  Art Tower Mito (ATM), Mito, Japon 1992 Hockney´s Opera,  Bunkamura, Tokyo, Japon 1988
Photographs by David Hockney,  University of Notre Dame, Notre Dame, Etats-Unis
Photographs by David Hockney, Cheekwood Botanical Garden and Museum of Art, Nashville, EtatsUnis
David Hockney,  The Metropolitan Museum of Art, New York, Etats-Unis
The Blue Guitar, Westfälisches Landesmuseum für Kunst und Kulturgeschichte Münster (LWL), Münster, Allemagne
David Hockney,  Tate Britain, Londres, Royaume-Uni
1987
Photographs by David Hockney,  Auckland Art Gallery, Auckland, Nouvelle-Zélande
Photographs by David Hockney,  Chazen Museum of Art, Madison, Etats-Unis
Photographs by David Hockney,  Santa Barbara Museum of Art, Santa Barbara, Etats-Unis
Photographs by David Hockney,  Newcastle Art Gallery, Newcastle, Australie
Photographs by David Hockney,  Toledo Museum of Art, Tolède, Etats-Unis
Photographs by David Hockney,  Akron Art Museum, Akron, Etats-Unis
Photographs by David Hockney,  Queensland Art Gallery / Gallery of Modern Art, Brisbane, Australie
Photographs by David Hockney,  Winnipeg Art Gallery (WAG), Winnipeg, Canada
1986
Photographs by David Hockney,  Museo Nazionale Alinari della Fotografia (MNAF), Florence, Italie
Moving Focus Prints from Tyler Graphics Ltd.,  Tate Britain, Londres, Royaume-Uni
Photographs by David Hockney, Christchurch Art Gallery Te Puna o Waiwhetu, Christchurch, NouvelleZélande
Photographs by David Hockney,  The University of Kansas, Lawrence, Etats-Unis
1985
Hockney Paints the Stage,  The Modern Art Museum of Fort Worth, Fort Worth, Etats-Unis
Hockney Paints the Stage,  San Francisco Museum of Modern Art (SFMOMA), San Francisco, Etats-Unis
Photographs by David Hockney,  Musée Réattu, Arles, France Hockney Paints the Stage,  Hayward Gallery, Londres, Royaume-Uni
David Hockney,  Corkin Gallery, Toronto, Canada
Photographs by David Hockney, Centro de Arte Moderna – CAM – Fundação Calouste Gulbenkian, Lisbonne, Portugal
1984
Hockney's Photographs,  Hayward Gallery, Londres, Royaume-Uni
Hockney paints the stage,  Walker Art Gallery, Minneapolis, Etats-Unis
Hockney Paints the Stage,  Museo Tamayo, Mexico, Mexique
Ausgewählte Druckgrafik,  Knoedler, Zürich, Suisse
1983
Photographies,  CAPC – Musée d'art contemporain, Bordeaux, France
Photographien 1962–1982,  Frankfurter Kunstverein, Francfort, Allemagne
1982
David Hockney,  Centre Pompidou – Musée National d´Art Moderne, Paris, France
Sources and Experiments,  Seawall Art Gallery – Rice University, Houston, Etats-Unis
Drawings and Photographs of China,  Knoedler, Londres, Royaume-Uni
1981
David Hockney,  Sara Hildén Art Museum, Tampere, Finlande
Stage Designs for "The Rake's Progress" and "The Magic Flute", The Ashmolean Museum of Art and Archaeology, Oxford, Royaume-Uni
The Artist's Eye: David Hockney Looking at Pictures in a Book, The National Gallery, Londres, Royaume-Uni
1980
Prints and Drawings,  Tate Britain, Londres, Royaume-Uni
1979
Travels with Pen, Pencil, and Ink,  Hirshhorn Museum and Sculpture Garden, Washington, Etats-Unis
The Blue Guitar,  Museum of Modern Art (MoMA), New York, Etats-Unis
1977
Twenty Photographic Pictures,  Judith Wright Centre of Contemporary Arts, Brisbane, Australie
1976 David Hockney,  Louisiana Museum of Modern Art, Humlebaek, Danemark
David Hockney,  Göteborg Museum of Art, Göteborg, Suède Works with the Eye,  Nicholas Wilder Gallery, Los Angeles, Etats-Unis
1975
Designs for The Rake's Progress,  Manchester Art Gallery, Manchester, Royaume-Uni
1974
David Hockney,  Kinsman Morrison Gallery, Londres, Royaume-Uni
Tableaux et Dessins,  Musée des Arts décoratifs, Paris, France
1973
Print Retrospective,  Knoedler & Company, New York, Etats-Unis
1972
Grimm's Fairy Tales—Suite of Etchings,  Victoria & Albert Museum – V&A, Londres, Royaume-Uni
1971
Illustrationen zu sechs Märchen der Brüder Grimm,  Frankfurter Kunstverein, Francfort, Allemagne
1970
David Hockney,  Whitechapel Art Gallery, Londres, Royaume-Uni
Paintings, Prints and Drawings, 1960–1970, Museum of Contemporary Art Belgrade (MoCAB), Belgrade, Serbie
1969
Graphics by David Hockney,  Rodman Hall Art Centre, St. Catharines, Canada
1966
Tekeningen en Etsen,,  Stedelijk Museum Amsterdam, Amsterdam, Pays-Bas
Expositions collectives
2023
Portraits of Dogs : from Gainsborough to Hockney, The Wallace Collection, Londres, Royaume-Uni
2022
I Am Here: Home Movies and Everyday Masterpieces, Art Gallery of Ontario, Toronto, Canada
Hockney–Matisse. Un paradis retrouvé, Musée Matisse, Nice, France
2018
250th Summer Exhibition,  Royal Academy of Arts, Londres, Royaume-Uni
2017
Los Angeles, a fiction,  Musée d'Art Contemporain Lyon, Lyon, France
2016
Seeing Nature – Landscape Masterworks from the Paul G. Allen Family Collection, The Phillips Collection, Washington, Etats-Unis Nobuyoshi ARAKI x Tsubasa FUJIKURA x David HOCKNEY Photography Exhibition, Art Space Kin Gyo Koo Kan, Taipei, Taïwan
2015
Works from the Astrup Fearnley Collection,  Astrup Fearnley Museet for Moderne Kunst, Oslo, Norvège
In Part,  Fondazione Prada, Milan, Italie
2013
Von Beckmann bis Warhol – Die Sammlung Bayer,  Martin-Gropius-Bau, Berlin, Allemagne
The Naked Man,  Ludwig Museum – Museum of Contemporary Art, Budapest, Hongrie
All You Need IS LOVE,  Mori Art Museum, Tokyo, Japon
2012
Picasso and Modern British Art,  Tate Britain, Londres, Royaume-Uni
Pacific Standard Time – Kunst in Los Angeles 1950–1980,  Martin-Gropius-Bau, Berlin, Allemagne
Picasso & Modern British Art,  Scottish National Gallery of Modern Art, Edimbourg, Royaume-Uni
2011
Let Us Face the Future – British Art 1945-1968,  Fundación Joan Miró, Barcelone, Espagne
Compass – Drawings from the Museum of Modern Art New York,  Martin-Gropius-Bau, Berlin, Allemagne
Artists observed by Sidney B. Felsen à l'atelier Gemini G.E.L.,  Galerie Lelong, Paris, France
L'objet photographique : une invention permanente, Maison Européenne de la Photographie, Paris, France 2010
Le Rêve – Der Traum – Motiv und Metapher,  Kunstmuseum Bochum, Bochum, Allemagne
Kupferstichkabinett: Between Thought and Action, White Cube – Hoxton Square, Londres, RoyaumeUni 2009
Time & Place: Los Angeles 1957-1968,  Moderna Museet, Stockholm, Suède Summer Exhibition
2009,  Royal Academy of Arts, Londres, Royaume-Uni
Poor. Old. Tired. Horse.,  Institute of Contemporary Arts London (ICA), Londres, Royaume-Uni
Nackte und Akte,  Kunstmuseum Bochum, Bochum, Allemagne
2008
BP Summer Exhibition – Hockney on Turner Watercolours,  Tate Britain, Londres, Royaume-Uni
Photos and Phantasy,  Carnegie Art Museum, Oxnard, Etats-Unis
2007
EROS in der Kunst der Moderne,  Fondation Beyeler, Riehen, Suisse
Francis Bacon, Richard Hamilton, David Hockney,  Galerie Lelong, Paris, France
The Naked Portrait,  Scottish National Portrait Gallery, Edimbourg, Royaume-Uni
2006
Los Angeles 1955-1985 The birth of an art capital, Centre Pompidou – Musée National d´Art Moderne, Paris, France
2005
Blumenmythos – Van Gogh bis Jeff Koons,  Fondation Beyeler, Riehen, Suisse
On the Square,  Philadelphia Art Alliance, Philadelphia, Etats-Unis
Photography in Parallel,  Maison Européenne de la Photographie, Paris, France
2004
Il nudo fra ideale e realtà,  Galleria d'Arte Moderna di Bologna – GAM, Bologne, Italie
About Corporeality in Editions – Artist Books, Prints, Photography,  Galerie Lelong, Zürich, Suisse
Art and the 60s – This was Tomorrow,  Tate Britain, Londres, Royaume-Uni
The DaimlerChrysler Collection,  South African National Art Gallery, Le Cap, Afrique du Sud
2003
Ex-press,  Royal College of Art Galleries, Londres, Royaume-Uni
2002
The Nature of Still Life,  Galleria d'Arte Moderna di Bologna – GAM, Bologne, Italie
2001 Radierungen,  Galerienhaus Stuttgart, Stuttgart, Allemagne
2000
Mechanismus und Ausdruck,  Kunstmuseum Bonn, Bonn, Allemagne
1999
David Hockney : Dialogue avec Picasso,  Musée national Picasso, Paris, France
1998
Sunshine & Noir. Arte a Los Angeles 1960-1997, Castello di Rivoli Museo d'Arte Contemporanea, Turin, Italie 1991
Zeichnungen des 20. Jahrhunderts. Karl August Burckhardt-Koechlin-Fonds 1991, Kunstmuseum Basel, Bâle, Suisse
Pop Art,  Royal Academy of Arts, Londres, Royaume-Uni
1987
British Art in the Twentieth Century: The Modern Movement, Royal Academy of Arts, Londres, Royaume-Uni
1985
Recalling the Fifties: British painting and sculpture 1950–60, Serpentine Gallery, Londres, RoyaumeUni 1982
Aspects of British Art Today,  Tokyo Metropolitan Art Museum, Tokyo, Japon
1981
A new Spirit of Painting,  Royal Academy of Arts, Londres, Royaume-Uni
1980
Lives: An exhibition of artists whose work is based on other people's lives, Serpentine Gallery, Londres, Royaume-Uni
1979
Narrative Paintings: Figurative Art of Two Generations selected by Timothy Hyman, Institute of Contemporary Arts London (ICA), Londres, Royaume-Uni
1976
Drawings of People,  Serpentine Gallery, Londres, Royaume-Uni
1975
European Painting in the Seventies: New Work by Sixteen Artists, Los Angeles County Museum of Art (LACMA), Los Angeles, Etats-Unis
1973
Summer Studio,  Institute of Contemporary Arts London (ICA), Londres, Royaume-Uni
1968
The Obsessive Image 1960-1968,  Institute of Contemporary Arts London (ICA), Londres, Royaume-Uni
Painted in Britain,  Institute of Contemporary Arts London (ICA), Londres, Royaume-Uni
1962
Four Young Artists: Maurice Agis, John Bowstead, David Hockney, Peter Phillips, Institute of Contemporary Arts London (ICA), Londres, Royaume-Uni
Biennales
2012
IV Bienal de Arte Contemporáneo,  Bienal de Arte Contemporaneo, Madrid, Espagne
2004
2004 Whitney Biennial Exhibition,  Whitney Biennal, New York, Etats-Unis
1995
46th International Art Exhibition Venice Biennale / Biennale di Venezia, La Biennale di Venezia, Venise, Italie
1989
20° Bienal de São Paulo,  Bienal de Sao Paulo, Sao Paulo, Brésil
1985
XIII BIENNALE DE PARIS,  Biennale de Paris, Paris, France
1979
3rd Biennale of Sydney: European Dialogue,  Biennale of Sydney, Sydney, Australie
1978
La Biennale di Venezia 1978. From Nature to Art, from Art to Nature, La Biennale di Venezia, Venise, Italie
1977
documenta 6,  Documenta, Kassel, Allemagne
1968
documenta 4,  , Kassel, Allemagne
1963
IIIème Biennale de Paris,  Biennale de Paris, Paris, France
1961
IIème Biennale de Paris,  Biennale de Paris, Paris, France
Collections
Unisa Art Gallery, Pretoria, Afrique du Sud  Daimler Contemporary, Berlin, Allemagne  Kunstmuseum Bochum, Bochum, Allemagne  Museum Ludwig, Cologne, Allemagne  Museum DKM, Duisbourg, Allemagne  Sammlung Alison & Peter W. Klein, Eberdingen, Allemagne  Museum für Moderne Kunst (MMK), Francfort, Allemagne  Hamburger Kunsthalle, Hambourg, Allemagne  Sprengel Museum Hannover, Hanovre, Allemagne  Museum Würth, Künzelsau, Allemagne  Queensland Art Gallery / Gallery of Modern Art, Brisbane, Australie  Museum Moderner Kunst Stiftung Ludwig (MUMOK), Vienne, Autriche  Stedelijk Museum voor Actuele Kunst (S.M.A.K.), Ghent, Belgique  Nickle Galleries, Calgary, Canada  Kitchener-Waterloo Art Gallery, Kitchener, Canada  Museum London, London, Canada  Carleton University Art Gallery (CUAG), Ottawa, Canada  National Gallery of Canada – Musée des beaux-arts du Canada, Ottawa, Canada  Vancouver Art Gallery, Vancouver, Canada  Louisiana Museum of Modern Art, Humlebaek, Danemark  CA2M – Centro de Arte Dos de Mayo, Madrid, Espagne
Museo Thyssen-Bornemisza, Madrid, Espagne  The High Museum of Art, Atlanta, Etats-Unis  Harry Ransom Center, Austin, Etats-Unis  Museum of Fine Arts Boston (MFA), Boston, Etats-Unis  The Art Institute of Chicago, Chicago, Etats-Unis  Columbia Museum of Art, Columbia, Etats-Unis  Figge Art Museum, Davenport, Etats-Unis  Nora Eccles Harrison Museum of Art, East Logan, Etats-Unis  Kemper Museum of Contemporary Art, Kansas, Etats-Unis  Castellani Art Museum, Lewiston, Etats-Unis  Los Angeles County Museum of Art (LACMA), Los Angeles, Etats-Unis  MOCA Grand Avenue, Los Angeles, Etats-Unis  The Getty Center, Los Angeles, Etats-Unis  Currier Museum of Art, Manchester, Etats-Unis  Walker Art Center, Minneapolis, Etats-Unis  Museum of Modern Art (MoMA), New York, Etats-Unis  Robert V. Fullerton Art Museum, San Bernardino, Etats-Unis  Brauer Museum of Art, Valparaiso, Etats-Unis  Smithsonian American Art Museum (SAAM), Washington, Etats-Unis  Kiasma – Museum of Contemporary Art, Helsinki, Finlande  Aboa Vetus & Ars Nova museums, Turku, Finlande  Musée National d'Art Moderne – MNAM, Paris, France  Frissiras Museum, Athènes, Grèce  Ludwig Museum – Museum of Contemporary Art – Budapest, Budapest, Hongrie  Tehran Museum of Contemporary Art (TMoCA), Tehran, Iran  Crawford Art Gallery, Cork, Irlande  Kawasaki City Museum, Kawasaki, Japon  National Museum of Modern Art Kyoto (MOMAK), Kyoto, Japon  Museum of Contemporary Art Tokyo (MOT), Tokyo, Japon  Museum of Contemporary Art Skopje, Scopie, Macédoine  Osten Museum of Drawing, Scopie, Macédoine  Henie Onstad Art Centre, Hovikodden, Norvège
Astrup Fearnley Museet for Moderne Kunst, Oslo, Norvège  Museums Vledder, Vledder, Pays-Bas  Berardo Museum, Lisbonne, Portugal  Centro de Arte Moderna – CAM – Fundação Calouste Gulbenkian, Lisbonne, Portugal  National Museum Cardiff, Cardiff, Royaume-Uni  Pallant House Gallery, Chichester, Royaume-Uni  Scottish National Gallery of Modern Art, Edimbourg, Royaume-Uni  Abbot Hall Art Gallery, Kendal, Royaume-Uni  Leeds Art Gallery, Leeds, Royaume-Uni  Walker Art Gallery, Liverpool, Royaume-Uni  Royal Academy of Arts, Londres, Royaume-Uni  Royal College of Art Galleries, Londres, Royaume-Uni  Tate Britain, Londres, Royaume-Uni  Manchester Art Gallery, Manchester, Royaume-Uni  Whitworth Art Gallery, Manchester, Royaume-Uni  Southampton City Art Gallery, Southampton, Royaume-Uni  UBS Art Collection, Zurich, Suisse  Huma Kabakcı Collection, Istanbul, Turquie