Astrid Köppe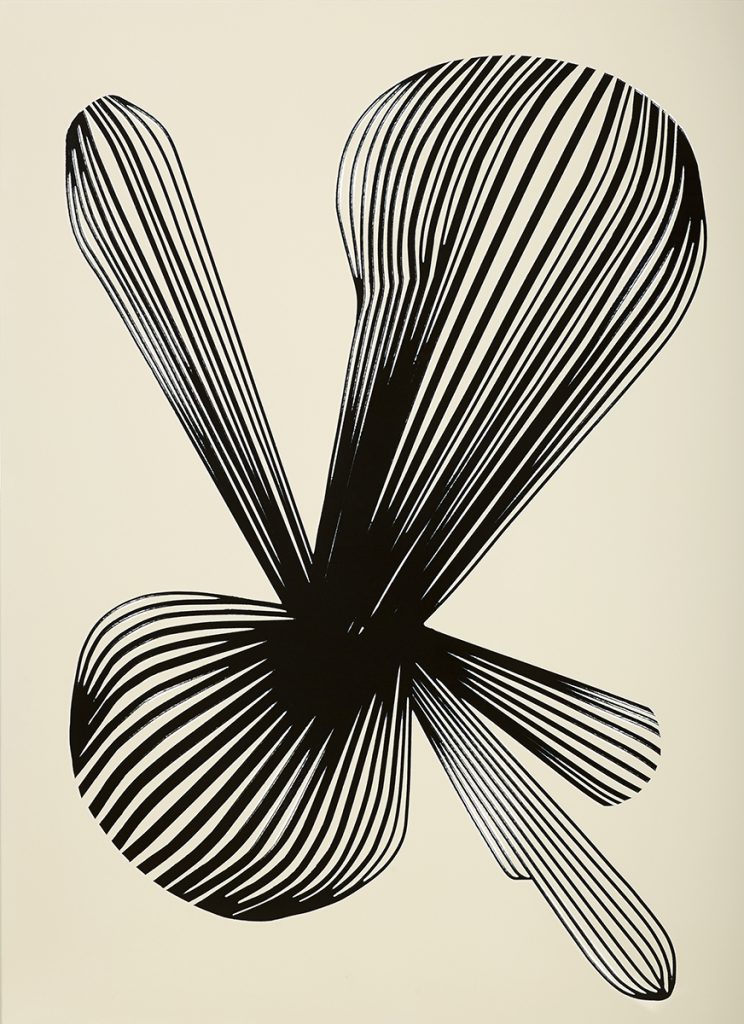 Lives and works in Berlin
Studied fine art at Braunschweig school of art 1992 – 1999
Born 1974 in Köthen/Anhalt, Germany
Drawing is not only an important part of my body of work but also the starting point for everything else I do.
My works on paper are strictly in the same size: A4, portrait format. They are mostly based on things I have actually seen – but what I picture are rather subjective essences of the perceived objects, filtered through my kind of selective perception. The drawings appear very precise on the one hand but are very open to interpretation on the other. This balance between certainty and uncertainty is what interests me and I always try to achieve.
Apart from my drawing work I like to explore new directions and work with what I find – in terms of material as well as circumstances. I frequently use traditional artisan techniques as well as unassuming or unusual materials and explore their potential for contemporary art.
For example I have a collaboration with a company producing vitreous enamel. This material is not common in contemporary art at all. Aside from its industrial use (for bath tubs, signs, pots etc.) it only has an arts&crafts connotation, if at all. By applying an artistic approach to it and testing and expanding its boundaries, I manage to give the technique a completely new twist and come up with very unique works.
Works
sans-titre-1

z14_074

z16_052

Z16_021

Z14_103

Sans titre #146

Z18_006

Z18_097

Z18_138

Z18_043

Z18_050

Z18_092

Z18_102

Z18_018

Z18_112

Z18_120

Z18_118

Z18_122

Z18_017

Z18_136
Shows
Selected solo exhibitions:
2020 Galerie Inga Kondeyne, Berlin
Konfabulasi, Gallery Sekiryu, Matsumoto
Konfabulasi, Gallery Sekiryu, Tokyo
2019
Pretty shiny stuff, Galerie Carolyn Heinz, Hamburg
Konfabulasi, Arte Giani, Frakfurt/Main
NOT SO A WHITE CUBE: untitled (untitled), LAGE EGAL, Berlin (mit Lukas Troberg)
Konfabulasi, Lostgens, Kuala Lumpur (MY)
2018 Pretty shiny stuff, Fata Morgana Galerie, Berlin
2017 Fusiform, Galerie Louis Gendre, Chamalières. Press release
2016 Fusiform, Arte Giani, Frankfurt/Main (DE) (upcoming in November)
Astrid Köppe – New Work, Gallery Joe, Philadelphia (US)
Fusiform, Galerie Carolyn Heinz at Galerie No. 3, Berlin (DE)
2014 Pareidolia, Arte Giani, Frankfurt (DE)
2013 Pareidolia, galerie weisser elefant, Berlin (DE)
Shape up, Galerie Carolyn Heinz, Hamburg (DE)
2012 Gallery Dam, Seoul (KR)
Bakemono, fruehsorge contemporary drawings, Berlin (DE)
Galerie Michael Sturm, Stuttgart (DE)
Astrid Köppe – Drawings, Annexe Gallery, Kuala Lumpur (MY)
2011 100 Drawings, Young Eun Museum of Contemporary Art, Gwangju-si (KR)
Malaysian Species, Arte Giani, Frankfurt/Main (DE)
2010 Weiße Ware, Kunstverein Heppenheim (DE)
Galerie Friebe, St. Gallen (CH)
Malaysian Species, whitebox@MAP, Kuala Lumpur (MY)
It's a flat world, fruehsorge contemporary drawings, Berlin (DE)
1 a flachware, Galerie Carolyn Heinz, Hamburg (DE)
2009 brandneu, galerie weisser elefant, Berlin (cat.) (DE)
Galerie Arte Giani, Frankfurt/Main with Conny Bosch) (DE)
2008 ein bißchen weniger, fruehsorge contemporary drawings, Berlin (with Gabriele Jerke) (DE)
Tastschärfe, Galerie Carolyn Heinz, Hamburg (with Reinhold Engberding) (DE)
2007 Galerie Carolyn Heinz, Hamburg (with Grit Richter) (DE)
2006 Schöne Ausstellung, galerie weisser elefant, Berlin (cat.) (DE)
2004 INTRO Gallery, Vilnius (LT)
2002 Kunstförderverein Schöningen (DE)
Kunstkreis Kloster Brunshausen, Bad Gandersheim (DE)
2001 Künstlerhaus Meinersen (cat.) (DE)
Selected group exhibitions:
2019
L'Artiste et les Commissaires, LAGE EGAL, Berlin
"NOTSOAWHITECUBE VI", LAGE EGAL Berlin
"Sense of White", Galerie Carolyn Heinz, Hamburg
Berlin – New York, galerie Louis Gendre, Chamalières  Catalogue  Press release
Weltenwechsel oder: wesentlich gewesen, galerie Weisser Elefant, Berlin
2018 The Cosmic Garden, curated by Jeff Gleich, Villa Erba, Lake Como, Italy
Anatomie der Melancholie, Zagreus Projekt, Berlin (DE)
Sehnsucht, Arte Giani, Frankfurt am Main (DE)
Im Märzen der Bauer…, galerie Carolyn Heinz, Hamburg (DE)
2017 Paradigmes indécis, Le dessin contemporain en Allemagne, Goethe-Institut de Paris2017 Paradigmes indécis, Le dessin contemporain en Allemagne, Goethe-Institut de Paris
Ende Neu, Lage Egal, Berlin (DE)
Turning Point, Galerie Jens Walther, Berlin (DE)
In between, Galerie Carolyn Heinz, Hamburg (DE)
If this then that (2) Lage Egal (inde Reinbeckhallen), Berlin (DE)
Zeichnung 17, Galerie Michael Sturm, Stuttgart (DE)
2016 Zeichnungsräume / Drawing Rooms, Hamburger Kunsthalle, Hamburg (DE)
Papierverliebt #2, Galerie Carolyn Heinz, Hamburg (DE)
Papierverliebt, Galerie Carolyn Heinz at Galerie No. 3, Berlin (DE)
Extending Ideas, Muzium & Galeri Tuanku Fauziah, USM, Penang (MY) (cat.)
Extending Ideas, Feeka, Kuala Lumpur (MY), (cat.)
2015 Bye Bye Old City: The Last Picture Show, Gallery Joe, Philadelphia (US)
Die Spur des Anderen, galerie weisser elefant, Berlin (DE)
Anonymous Drawings 2015, Galerie Geyso20, Braunschweig (DE)
Anonymous Drawings 2015, artQ13, Rome (IT)
Anonymous Drawings 2015, Galerie Nord | Kunstverein Tiergarten, Berlin (DE)
Prolog – Heft für Zeichnung und Text, Pavillon am Milchhof, Berlin (DE)
Schau doch mal rein! Galerie Michael Sturm, Stuttgart (DE)
2014 Joy!, Gallery Joe, Philadelphia (US)
The Venue of P. II, Galerie Heinz· Kramer, Hamburg (DE)
The Drawer, Paris (FR)
Lust auf Linie, Arte Giani, Frankfurt/Main (DE)
Anonyme Zeichner – based in Berlin, Pavillon am Milchhof, Berlin (DE)
Thinking Drawing, Galeri Serdang, Selangor (MY)
2013 Peanuts of Joy, Kunstraum Dreieich, Dreieich (DE)
Secrets, Look, Berlin (DE)
Mix it up, Galerie Carolyn Heinz, Hamburg (DE)
Vielleicht sehe ich auch zu tief in die Dinge hinein, Overbeck-Gesellschaft, Lübeck (DE)
Itinéraires, espace despalles, Paris (FR)
Stopover, fruehsorge contemporary drawings, Berlin (DE)
Young Museum of Contemporary Art, Gwangju-si (KR)
KL Triennial: Barricade, whitebox@MAP, Kuala Lumpur (MY)
2012 BRIDGET. Am Rande der Vernunft. Hamburg Artweek 2012, Hamburg (DE)
At the parkhaus, Parkhaus Projects, Berlin (DE)
FUKT Magazine for Contemporary Drawing, Kunstnerforbundet, Oslo (NO)
Berlin . Status (1), Künstlerhaus Bethanien, Berlin (DE)
Anschlüssel – London Berlin, Centre for Recent Drawing, London (UK)
WEISS, Arte Giani, Frankfurt/Main (DE)
2011 Zwaan Kleef Aan, wall drawings, Nieuwe Vide, Haarlem (NL)
Tekenend voor Diepenheim, Drawing Centre, Kunstvereniging Diepenheim (NL)
Anschlüssel – London Berlin, fruehsorge contemporary drawings, Berlin (DE)
Terra Incognita, Altana Galerie, TU Dresden (DE) (cat.)
Die Linie überschreiten. Eine Zeichnungsausstellung, Westwendischer Kunstverein (DE)
Die Linie überschreiten. Eine Zeichnungsausstellung, Schau Fenster, Schauraum für Kunst, Berlin (DE)
Drawn to drawing, Galerie Carolyn Heinz, Hamburg (DE)
Entre temps, Galerie Friebe, St. Gallen (CH)
2010 Christmas Gift, 123 Gallery, Seoul (KR)
Generationen II – abstrakt konkret gegenstandslos, Kunsthalle Brennabor, Brandenburg (DE)
… und immer weiter – 16 Jahre Arte Giani, Arte Giani, Frankfurt/Main (D)E
Zeichnung `10, Galerie Michael Sturm, Stuttgart (DE)
Hand Joy, Centre for Recent Drawing, London (UK)
Facebook, Patrick Heide Gallery, London (UK)
2009 6 x 2 Freundschaftsbande, Galerie Carolyn Heinz, Hamburg (DE)
BS – Visite 2009, Braunschweig (DE)
junger westen 2009, Kunsthalle Recklinghausen (DE) (cat.)
2008 In 7 Feldern. Stipendiaten der Akademie der Künste 2007, Akademie der Künste, Berlin (DE)
2007 Zeichnung – Aktuelle Positionen, Kunstraum Düsseldorf (DE)
Anonyme Zeichner 5, blütenweiss – Raum für Kunst, Berlin(DE)
Gold, Weihrauch und Myrrhe, Galerie Carolyn Heinz, Hamburg
2006 Rummel – Von der Käuflichkeit des Glücks, falschgelb* raum für kunst, Berlin (DE)
Verkehr – über die Kontingenz von Dynamik und Statik, falschgelb* raum für kunst, Berlin (DE)
Gärten – über die Ordnung der Natur, falschgelb* raum für kunst, Berlin (DE)
2005 Zeichnung, falschgelb* raum für kunst, Berlin (DE)
Damenwahl, Galerie Karin Friebe, Mannheim (DE)
2003 after the fair, Galerie Tammen&Busch, Berlin (DE)
Stilleben, Galerie Tammen & Busch, Berlin (DE)
Zeitgenössisch! Kunst in Berlin, KPM-Quartier, Berlin (DE)
2002 Mitten ins Herz, Galerie Tammen&Busch, Berlin (DE)
2000 Kunstpreis des Landkreises Gifhorn "Objekte zwischen Kunst und Design", Schloß Gifhorn (cat.) (DE)
1999 Kunstpreis des Landkreises Gifhorn "Kunst am Wasser", Künstlerhaus Meinersen (DE)
Scholarships / residencies:
2011/12 residency, Lost Generation Art Space / Goethe Institut, Kuala Lumpur (MY)
2011 residency, Young Eun Museum of Contemporary Art, Gwangju-si (KR)
2010 residency, Lost Generation Art Space / Goethe Institut, Kuala Lumpur (MY)
2007 scholarship Junge Akademie, Akademie der Künste Berlin (DE)
Grant from Käthe Dorsch und Agnes Straub Stiftung, Berlin (D)E
2000 residency, Künstlerhaus Meinersen (DE)
Public collections:
2015 Berlinische Galerie, Berlin (DE)
2010 Kupferstichkabinett, Kunsthalle Hamburg (DE)
2011 Young Eun Museum of Contemporary Art, Gwangju-si (KR)
2009 Akademie der Künste, Berlin (DE)
2009 Museum Biedermann, Donaueschingen (DE)
Publications:
Zeichnungsräume / Drawing Rooms, Hamburger Kunsthalle, Hamburg (DE), 2016
Prolog – Heft für Zeichnung und Text, Berlin (DE), 2015
The Drawer, issue #7, drawing magazine, Paris (FR), 2014
Thinking Drawing, Galerie Serdang / Goethe Institut Malaysia (MY), 2014
Berlin . Status (1), Künstlerhaus Bethanien, Berlin (DE), 2012
Roven, issue #6, drawing magazine, Paris (FR), 2011
FUKT, issue #10, drawing magazine, Berlin (DE), 2011
Idealist, issue #1 "Kampfgeist", Berlin (DE), 2011
brandneu, catalogue, Avinus-Verlag, Berlin (DE), 2009
Astrid Köppe, catalogue, galerie weisser elefant, Berlin (DE), 2006
Astrid Köppe, catalogue, Künstlerhaus Meinersen (DE), 2001